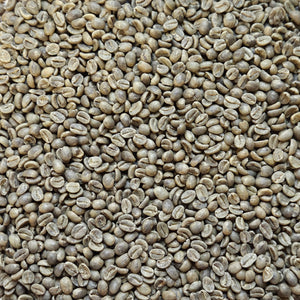 Java Estate Jampit
Flavor notes: good balance, low acidity, full body, hints of chocolate, syrupy finish

Recommended for drips, pour-overs and blending. 

Great at light, medium and darks roasts. 
Origin: Indonesia, Java
Region: Ijen Plateau, Eastern Java
Farm: 

Jampit Estate

Variety: Catimor, Typica
Altitude: 1100 to 1500masl
Process: washed
Grade: 1
Harvest/Shipping: May - September
Certifications: none

The Ijen Plateau is actually closer to the neighboring island province of Bali, just a short trip to the east across the Sea of Bali and benefits from excellent, mineral-rich volcanic soil, proportionate rainfall and a humid, subtropical climate.
Javanese coffee is not typically wet-hulled or semi-washed like Sumatra or Sulawesi origins; rather it is traditionally washed and for this reason is regarded as the cleanest of all Indonesian offerings.
Java Estate Jampit is produced on the East Java Jampit Plantation on the Ijen Plateau. Jampit (or Djampit) is one of five large estates in the region that date back to the Dutch colonial era. Like most of Java, and unlike Sumatra and Sulawesi our Java Estate Jampit is wet processed, producing a distinctly clean cup with low acidity, big body, some nice chocolatey notes and a sweet, syrupy finish. The other four colonial estates in the region are Blawan (also called Belawan or Blauan), Pancoer (or Pancur), Kayumas and Tugosari—in total their combined farmlands, including the Java Estate Jampit cover more than 9,000 acres.
---
We Also Recommend
---