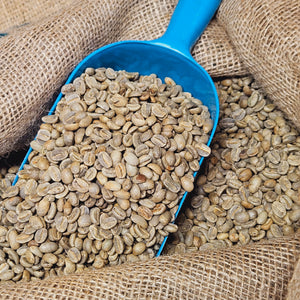 Papua New Guinea FTO Purosa A/X
Flavor notes: caramel, apricot, and slight cocoa notes, with a creamy body and good acidity
You will find this Fair Trade Organic Papua New Guinea coffee is excellent for blending and espresso, but please, drink it straight too, as it shines as a straight single origin! It takes a dark roast very well and puffs up nicely after a friendly roasting. It is very well processed and much cleaner in the cup than most Sumatras. This is a truly wonderful coffee that should be a regular player in your collection of "house" coffees.
Try it as a dark roast. Great for pour-overs, drip, blends, cold brew and espresso.
Origin: PNG
Region: Eastern Highlands, Ivangoi, Puosa & Okapa Valleys
Farm: Highland Organic Agricultural Cooperative
Variety: Bourbon, Typica
Altitude: 2,000-5,000 ft (600-1500m)
Process: washed
Grade: A/X
Growing/Harvest: Year Round
Crop Year: 2023

Certifications: Fair-Trade, Organic

Grown in the Eastern Highlands, specifically Ivangoi, Purosa, and Okapa valleys by over 3,000 farmers and certified as FTO (Fair-Trade Organic) through the Highland Organic Agricultural Cooperative. The majority of farmers here grow their varietals in small gardens within their tribal villages, which have for centuries largely kept intact their individual languages and customs. Some of the trees which produce our Fair Trade Organic Papua New Guinea are 25+ years old, producing less fruited cherries, but also a higher sugar content than younger crops, which of course translates to a sweeter and more complex cup.
---
We Also Recommend
---