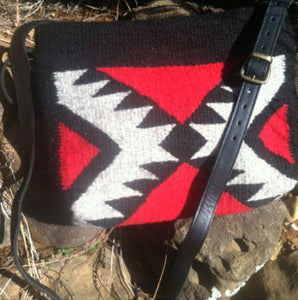 Hand Woven Bag from Mexico, Weaver: Josefina
These Manos Zapotecas bags are hand woven in the mountains of Teotitlan, a Zapotec community of Oaxaca, Southern Mexico. Each bag is a traditional design and each weaver is identifiable. THIS bag was woven by Josefina. Each bag is Fair Trade certified.
This crossbody purse is the Jagged Diamonds Design
Approximately 8.5" x 11"
Single leather strap
Lined Interior
Interior pocket
Zipper closure
100% wool
Hand dyed
Hand woven
Fair Trade
Zapotec people have had weaving in their blood stretching back to 500 B.C. Before the Spanish conquest in the 1500′s, their fine cotton textiles were traded all over Mesoamerica. Later the Spanish brought sheep to the weavers in Teotitlán del Valle, so they could make blankets out of wool. The friars taught the Zapotec men to treadle upright looms, and the tradition of weaving wool blankets and serapes became an integral part of daily life.
Prior to the 1548 introduction of wool by the Spanish, Zapotec weavers used cotton, cactus fiber, and horse hair. The introduction of wool however gave the weavers a new material- New is relative, being more than 400 years ago. Traditional patterns were literally woven into the new materials.
...Paco and his wife Josefina, a talented weaver and seamstress, live with their four children in the curve of the road entering town, across the street from the compound where his parents and several other siblings live. Their front door view is one of fields and mountains, and everyone who enters Teotitlán drives past their house and shop, named for youngest daughter María José.
Josefina, who has been married to Paco for more than 20 years, came from a family of farmers (her brother, Jose Luis, is married to Paco's sister Maria Luisa) and began to weave when she married. "I forget the world when I begin to dye the colors," she says. "The colors are never the same and it's interesting every time."
The family lives in Tlacochahuaya, a small town just a few miles away from Teotitlán del Valle, where most of the other Manos Zapotecas weavers live. "I enjoy the whole weaving process – each part has its beauty," he says. "When you are about to pick the colors to dye, it's really fun; then when you finally start to weave a design you've chosen, that's special too. At the end, when you're cutting a piece of cloth out of the loom, you feel proud to say, 'I made that!'"
When you walk into a family home in Teotitlan, you will feel like you have walked back in time. There are usually at least four large treadle looms, the same type brought by the Spaniards so long ago. Each loom will have a different work on it, with various family members devoting hours each day to the long process. you will also see hanging skeins of yarn in shades of every imaginable color. Many of the families in Teotitlan are completely devoted to using only natural dyes which are concocted from a large variety of plant, animal and mineral sources.
---
We Also Recommend
---